OFFICE PROTECT FOR OFFICE 365
An Easy Management Solution for Your Office 365 Security
Office Protect gives you peace of mind. Your Office 365 is protected by best practice security settings and monitored for malicious activity from hackers and insiders.
Monitoring & Alerts

24/7

Email alerts

Any change to your security policy
Unknown devices or IP address
Suspicious mailbox activities
Administrator Abuse
Threat Protection
Deployment of best security settings

Audit Logs Always-On
Mailbox Audit Logs Always-On
Enable MFA for admin/all users
set outbound spam notifications
Reporting
Activity dashboard and reporting

Activity Dashboards
Automated reports
Export to PDF 
Export to CSV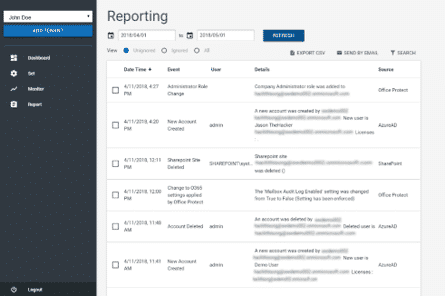 Why use CPI Networks Office Protect?
Security Remains the Top Concern for Small Businesses
Human Error
Recent statistics have shown that close to half of IT incidents in small and medium businesses are due to human error.

Permanent Threats
Office 365 is the most popular productivity service worldwide. Cybercrime is a growing threat, especially ransomware.

User Miseducation
It takes just one uneducated or distracted user to open a malicious file that can harm an entire company.

Interested in upgrading your Office 365 security with Office Protect, then give us a call today.